Nicole - Registered Dental Hygienist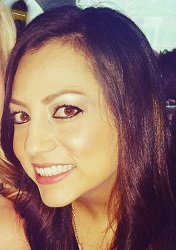 My name is Nicole and I am one of the Dental Hygienists here at the office of Dr. Andrew Cheong. I graduated from Fresno City College in 2011, with an AS degree in dental hygiene. I have a gentle happy demeanor that can ease nervous patients who consider a dental office to be a scary place. In my spare time, I enjoy traveling, golfing, and spending time with my family and friends. God has blessed me and my husband, Roland, with five amazing children. They all know the way to a happy smile is to brush those teeth! I look forward to serving you at your next visit to Dr. Cheong.
Jessica - Registered Dental Hygienist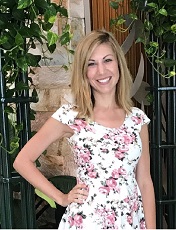 I was born and raised in Reedley, CA, and graduated with an AS degree in Dental Hygiene from San Joaquin Valley College in 2013. I enjoy meeting and getting to know my patients, and making them feel comfortable and relaxed while at the dentist is important to me. I take pride in educating my patients on oral health and the importance of oral hygiene on one's overall health. I am happily married to my husband, Jared. We don't have any children yet, but they are definitely planned in our future. In my free time, I enjoy traveling, baking, scrapbooking, hiking, going to Disneyland with my husband, watching movies, going to church, and spending time with my family and friends.
Laura - Receptionist
I am originally from Los Angeles and moved to Northern California in 2014. I have been in the Dental profession for 8 years with experience as a former chair-side assistant and billing, and now I have moved to the front office with Dr. Cheong. I love greeting and interacting with our patients, as well as helping them feel comfortable and relaxed so they have a positive experience. I am also bilingual. I am married, and have a daughter and a son. In my spare time I like to visit with family back home.
Ariana - Registered Dental Hygienist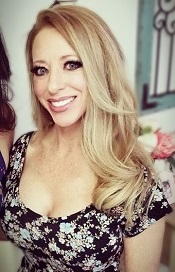 I am a resident of Visalia, Ca and graduated from San Joaquin Valley College in 2003 with an Associates Degree in Dental Hygiene. Years later I decided to further my healthcare education, and received my degree in Registered Nursing from College of the Sequoias in 2010. After obtaining my license, I worked briefly at a convalescent home. Helping patients achieve and maintain an optimal level of oral health has always been my passion, which is why I decided to work full time as a hygienist. In my spare time, I hit the gym and spend time with my pit bull baby. I'm so thankful for my second family at Dr. Cheong's office, and love seeing new faces in our office.
Sandra - Dental Assistant
I joined the team in 2013 as a graduate of San Joaquin valley college. I first interned, then hired, and now been working chair-side with Dr. Cheong for 6 years. I am enthusiastic about dentistry and thrilled to contribute my knowledge and skills to all of my patients. I have a warm heart for everyone that walks through our office doors. I love being able to connect with all our patients, helping them maintain a healthy beautiful smile, and making it a happy experience for everyone. When I'm not at work i enjoy going to Dodger games, traveling to different countries, and looking for a good vegan meal to eat with my family.
Patsy - Registered Dental Assistant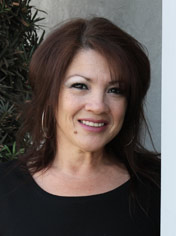 I love giving our patients a reason to smile. My 21 years of experience and knowledge, as well as being bilingual, enables me to bring a lot to our practice. This is a positive, happy dental practice, and everyone is always smiling and laughing, patients and our team alike. We're a large family here, and our patients are a part of that family. We genuinely care about them and want to provide them with the best treatment and experience possible. My job duties are focused on patient care as I support and talk with patients through their treatment, making sure that they're comfortable and relaxed in the chair, explaining what Dr. Cheong is doing, and how everything is progressing. It is really important that a patient knows we are here for them, and I do everything I can to communicate and check in with them. In my spare time I enjoy spending time with my daughter, two sons, two grandchildren and enjoying life.
Ariel - Registered Dental Assistant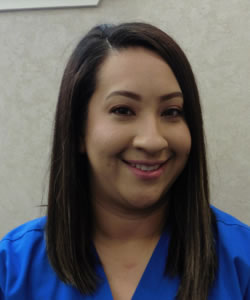 I love helping our patients with all their dental needs. Even the most fearful patients soon learn that this is an office where they have nothing to worry about. Dr. Cheong is so gentle and patient with each person he treats, talking with and reassuring them that they will feel nothing during the process. I assist Dr. Cheong chairside while he's caring for patients. I make sure he has everything he needs at hand. I am always focused on our patients, checking in to see that they are comfortable, and explaining what the doctor is doing as well as how much progress has been made. I'm always available to answer patients' questions about their dental care. I educate our patients about the different dental procedures, how they work, and why they are important in terms of restoring great oral health. When I'm not at the office, you'll find me spending time with my family, including my husband, Angel, our two sons, and two daughters. I love sports and enjoy outdoor activities.
Martha - Insurance & Billing Coordinator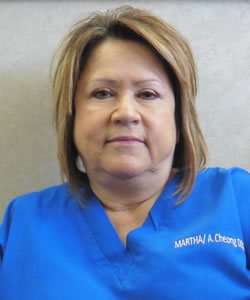 I have been with the practice for 18 years and have had the opportunity to really get to know those we care for and serve. I am in charge of all billing matters, perform the record keeping, and schedule appointments. My banking background enables me to bring a wealth of knowledge in record keeping to our office. I am the back office receptionist and also assist our team members with all insurance issues pertaining to our patients' care and treatment. I am also bilingual and assist our patients and team members with translating information to keep our office running smoothly and patients feeling at ease. In my free time, I enjoy spending time with my husband, son, grandchildren, and family.